We continue the preview with questions 45-50. At this point I know we are pretty far into the season, however, I am committed to getting to question 82. Let's get right into it!
45. Craziest Promotional Night? – Fight Night
We had the Raptors holding Drake night last year, and this year I think the Bulls need a way to get through their season. Why not get Rob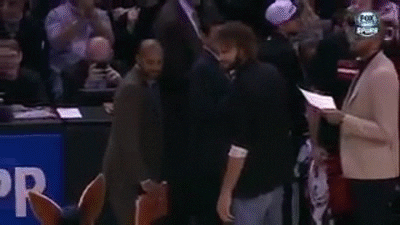 in Lopez in a ring with a mascot.
These 2 clips aren't just the only times Lopez has attacked a mascot. I believe if you get him in a ring with a few mascots, it would draw in a pretty large crowd. I think this is a pretty cool idea so if someone from the Bulls organization is reading this because someone from the Bulls is totally going to read this, then you can feel free to use this idea. I expect to see this announced…
*Skipping Question 46, Rookie of the Year will have own post
47. Best under the radar move? – Rajon Rondo
Seems like already the Pelicans really want Rondo back. You hear Cousins and Davis really excited for when Rondo is healthy. What is really important is that Rondo is there for when Jrue Holiday is resting. They don't have a major ball handler when Holiday is out of the game. It is Cousins that usually brings the ball up the court, sometimes even Davis. They need a playmaker, and Rondo is that guy. Everyone thinks of Rondo as washed up, and that is why the former all star is my top under the radar move.
48. Is this Lebron's Final Year in Cleveland? – No
Where have people been thinking Lebron will go to? The Los Angeles Lakers. I'm not sure if Lebron wants to go to this team who will have a losing season in the Lakers. We still don't know if Ball and Ingram will turn out to be good, and Lopez and Caldwell-Pope need to resign which they probably won't if Lebron comes in. I see LBJ waiting a year to see where the Lakers are, then he will make the decision. I think this offseason the King will sign a one year deal with a player option to stay with the Cavs.
49. Will Boogie and AD end the season in New Orleans – Yes
Here is the thing in today's NBA, you don't get enough return for a star. Last year the Pelicans only gave up Hield, Evans, and a 1st rounder. Especially because Boogie is on a 1 year deal, they won't be able to get much from a smaller team. Larger teams like the Cavs and the Warriors may want him, however can't give up cap to get him. Anthony Davis is a franchise player for the Pelicans and won't leave. There was trade rumors with the Celtics last year but they never happened. I just can't see this happening considering he has played his full career in New Orleans. Unless the Pelicans receive a guaranteed top 5 pick for Cousins, I don't think the stars of New Orleans will be leaving. I also think Cousins will resign in the Off season however that is for another blog post.
50. Do the Warriors have the best bench? – No
The Cavaliers have the best bench by far, here is what it looks like if every player is healthy.
Backup PG: Derrick Rose
Backup SG: Dwyane Wade
Backup SF: Kyle Korver
Backup PF: Jeff Green
Backup C: Tristan Thompson
Warriors:
Backup PG: Shaun Livingston
Backup SG: Nick Young
Backup SF: Andre Iguodala
Backup PF: Jordan Bell
Backup C: JaVale McGee
With a core of Derrick Rose, Dwyane Wade, and Tristan Thompson, I think the Cavs could be a core of a legit team. Now yes, that team would be one of the worst teams in the NBA, however, that team would win probably 15-20 games on the season. If the Warriors bench did this, I think they would only have about 10 wins on the season. Iguodala is a pretty good player, however, he is getting older. McGee wouldn't have the same impact as there is no one throwing lobs to him. Bell is a rookie and we don't know how well he can play, and Nick Young is a good scorer but not someone to rely on for your bench unit. Overall looking it on paper, I would much rather have the Cavs bench then the Warriors.
Thank you for watching, and have an amazing day!